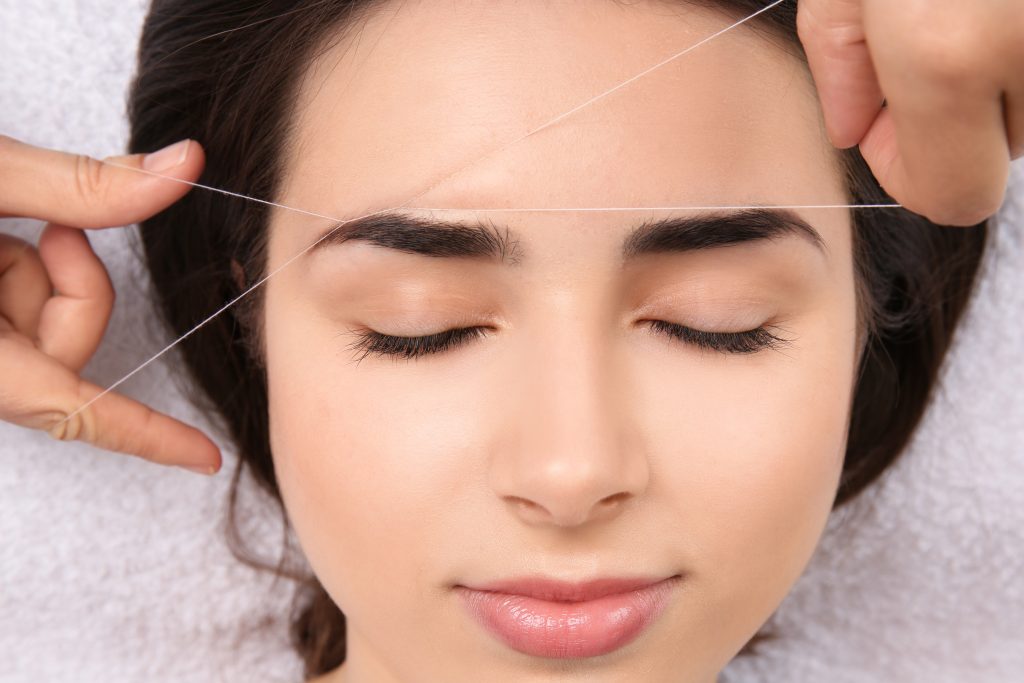 In threading, a thin (cotton or polyester) thread is doubled, then twisted. It is then rolled over areas of unwanted hair, plucking the hair at the follicle level. Unlike tweezing, where single hairs are pulled out one at a time, threading can remove short lines of hair. Advantages cited for eyebrow threading, as opposed to eyebrow waxing, are that it provides more precise control in shaping eyebrows and is gentler on the skin. Threading allows for a more defined and precise shape and can create better definition for eyebrows. It is also used as a method of removing unwanted hair on the entire face and upper lip area.
A safe and effective method of removing unwanted facial and body hair, using heated wax. The warm wax is applied to the desired area and is gently ripped against the direction of hair with the help of a wax strip. We use organic herbal wax and do not double dip the wax sticks to insure better hygiene and sanitation. New hair will not grow back in the previously waxed area for four to six weeks.
Henna is a paste used for temporary dyeing of  the skin. It is made from the shrub of a flowering plant, hence it is natural- no chemicals, no preservatives etc. The procedure of applying elegant designs using the Henna paste to the skin of your body parts is called Henna Tattoo. It can be applied to your palms, arms, legs, back or anywhere according to your preference. We have wide selection of designs to choose from. You can also bring your own design if you so prefer.  
See Picture album for detailed prices.
A procedure of applying artificial eyelashes one at a time using a specially formulated semi-permanent glue that will not irritate the eye nor damage the natural lash. We carry cluster eyelashes in 3 different sizes: large, medium, and small which are applied using US made premium glue. Generally, these lashes last for 2-3 weeks. To ensure that the extensions last as long as possible, please refrain from excessive use of water or avoid sweating around the eyelash area. 
This services are offered at our Essex Location only" – Click HERE to go there now.
Eyebrows tinting helps you to cover the sparsely populated hair  and also hide the gray hair in your eyebrows thereby giving you a nice relief from using pencils, mascara or tweezers. It enhances the shape, color and thickness of your brows. Eyelash tinting also serves the same purposes on your eyelashes. It gives a natural look and fullness to your lashes. Ideal for those whose lashes are lighter than rest of the hair and who want to make their lashes noticeable. Both eyebrows and eyelash tinting lasts for approximately 3-4 weeks but may vary from person to person.