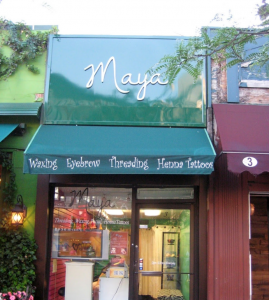 Maya is a neat and cozy salon run by a team of experienced staff for more than a decade. We offer our services with equal priority, be it a new customer or repeating ones. Customized service, affordable rates and great location is what makes our salon stand out. Please visit our Testimonials page to find what our customers have to say about us.
We specialize in threading, waxing, facials and Henna tattoos. Our salon is conveniently located at 3 Greenwich Ave, Manhattan, New York and is easily accessible by public transport as it is located just steps away from major stations like West 4 St. (A,C,E,M,F,B,D trains) and Path train at 9th Street.
We are open from 10.30 A.M. to 8.00 P.M. 6 days a week (closed on Mondays). We are closed 3 days in a year which is Thanksgiving Day, Christmas Day, and New Year's Day. Though walk-ins are accepted for short duration services like facial threading, we suggest you get an appointment for other long-duration services like arm, leg, body, bikini or Brazilian waxing, and Henna Tattoo, etc.